Are you wary of the Employment Law Minefield? We'll expertly guide you away from the danger and into safety.
Tearing your hair out over a problem member of staff? Banish your worries with expert advice tailored to your business.
Need tailored, specific advice you won't get from a helpline? Our retained package gives you all the support you need. For less than you'd expect.
Welcome to Lloyd HR Consultancy
The end of your HR worries is only a phone call away.
That's all it takes. One conversation.
One simple exchange of words to magic away all the worry and concern your staff issues are causing you.
We're Lloyd HR Consultancy and we help business owners forget about the problems of troublesome employees and staying on the right side of employment law with our managed HR packages.
We help you overcome the challenges of managing HR effectively so you can focus on what you do best: making sales and serving your customers.
No matter what your problem, there are always options.
Call us right now on 01737 336 336 or email charlie@lloydhrconsultancy.co.uk and let us put an end to your HR woes.
Request Your FREE Consultation
Fill in the fields below and one of our HR Angels will be in touch:
Where We Serve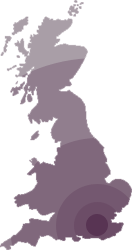 We're based in lovely Reigate, Surrey with clients throughout Surrey, Sussex, Kent and London. However our reach is national and we're happy to work with you anywhere in the UK.
Who We Help
Are you in any of these situations?
If you're a small business owner struggling with staff problems
If you're a growing business concerned you'll be tripped up by employment law
If you're stuck facing a possible disciplinary action and don't know where to turn
If you're desperate to shed staff to keep your business afloat
If so, use our expertise and experience to solve your employment law headaches. Whatever your employment law issue, we have a solution. Call us on 01737 336 336.
Lloyd HR Consultancy supported MBA Polymers for over 6 month and during that time I had the privilege of working with Lloyd HR Consultancy. With their help we developed and recruited a new UK team.

Nigel Hunton
CEO, MBA Polymers